Finding the Option That Works
As a real estate agent, Donna Walker knows that her home is a good investment, and she has a plan for making her home provide ongoing value for her.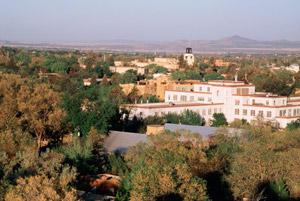 "I have in mind to pay off my current house," Walker explains. "I live in Santa Fe, and I know I'm going to be here for a while. This is a resort and second-home destination for many people, so my goal is to pay off this home, buy another home to live in, and rent this one."
Walker was making progress with her existing mortgage, but felt she could do better. In September of last year, she began to think about refinance options. However, in the past two years, her house value had decreased.
"I work with some lenders here locally who tend to be reliable, but at the time, nobody seemed to be interested in helping me," Walker says.
However, while working on her computer one day, Walker clicked a refinance ad, just out of curiosity.
"I guess it was fate," she says. "I started filling out the form but didn't even complete it. But I must have put in enough information."
Walker soon received a call from Gayle Briner, a mortgage analyst at Reliance First Capital.
Walker had never considered working with an online lender.
She explains, "As a real estate agent, I'd been taught, of course, that you do business locally and that you don't do business over the Internet. You establish a relationship with a local lender so that if any questions come up, you have someone to go to for recourse."
However, Briner did the work to create that relationship, even at a distance, says Walker.
"She sent me detailed information and her bio, let me know about her company, and like a good lender should, made herself available to me."
Instead of focusing only on refinancing with a loan that had the same terms as Walker's current mortgage, Briner gave Walker all her options — including suggesting a 15-year mortgage. That option provided Walker with a way to significantly reduce the time to pay off her mortgage, and Walker decided to pursue the refinance.
"We talked daily, and Briner made the process painless — we closed in about a month. I've sent her many referrals since!" says Walker.