How to Navigate the Sea of Mortgage Lenders
In 2004, the Hankins built their home. They invested significant time, energy, and money in a place they knew they wanted to stay long term. As interest rates fell during the next few years, the couple considered refinancing, but decided to put it off. They stuck with their 30-year, 5-percent mortgage primarily because they didn't want to go through the hassle of the refinance process.
However, when rates fell to new lows earlier this year, the Hankins decided to explore their options.
Opening the floodgates
Jennifer Hankins remembers the immediate, overwhelming response she and her husband received as soon as they expressed interest in refinancing. "Everyone and their brother started to call us," she says.
Hankins says they experienced an onslaught of phone calls from multiple lenders, and most of them were aggressive in their sales approach. "I don't respond well to the aggression or hard-sell tactics," Hankins explains. She found the process frustrating, and it took her weeks to sort through the information.
As she waded through the offers, Hankins began noticing patterns she didn't like. Some lenders tried "low-balling" tactics, offering lower rates once they heard what other companies had offered. Other salespeople tried to make offers more appealing by including unrealistically low tax figures or fees so the loan cost would appear lower.
When Hankins realized what was happening, she was discouraged. "I don't price shop, and I don't believe in people who get aggressive with their quotes only after you tell them that someone else is better than them. I want them to come to me with their best options and to be honest with me about what that entails," she says.
A breath of fresh air
Once Hankins identified which companies were using undesirable tactics, she was able to narrow down her search for the right lender. When she found Michael Mucciarone, a representative from Reliance First Capital, she says he was like a breath of fresh air.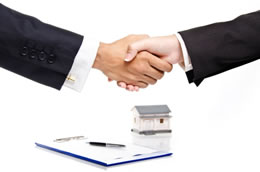 Hankins was impressed with Mucciarone's level of expertise, gained over 25 years in the mortgage lending business. She also appreciated his rapport: "His approach was to follow up continuously but not aggressively. He had a very consistent but not overly pushy approach. He didn't use scare tactics."
Mucciarone started by asking about the Hankins' financial goals. With 22 years left on their mortgage, they wanted to lower their monthly payments without starting over with a 30-year loan.
Mucciarone offered the couple several options to consider including one that took advantage of the Home Affordable Refinance Program(HARP). Hankins notes, "Mike was the only lender who proactively told us about the HARP loan. It was important to us to know about this government program, and it ended up being the appropriate program for us."
Mucciarone worked with the couple to lower their payments by $500 a month. They are able to enjoy a lower monthly payment and pay additional money toward their loan principal each month, shortening the overall time they have to pay their mortgage.
Smooth sailing
Once Hankins selected Reliance First Capital, the process went swiftly and Mucciarone helped her every step of the way.
After he provided quotes that met the couple's financial goals, Mucciarone sent Hankins one easy-to-gather list of necessary documentation, which she was able to provide him within 48 hours. The underwriting took only two days, and the whole process was finished in nine days.
Hankins is very happy with the professionalism and results she received from Mucciarone and Reliance First Capital, and she offers advice to others considering a refinance: "Be aware of firms that are trying to undercut the competition and provide unrealistic quotes and expectations," she warns. "Look for a lender who makes you comfortable, and go with your intuition."