7 Questions to Ask Your Lender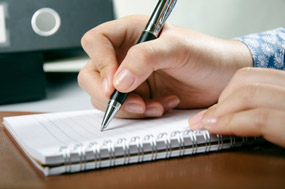 When itís time to purchase a home or refinance a loan, itís easy to get caught up in the questions loan officers ask you. But itís just as important to know the questions to ask lenders so you can gain a better understanding of the lending or refinancing process.

Getting the lenderís credentials is the first step. This is essential for making sure you feel comfortable with your lender and get the product that best fits your needs and circumstances.

Before making a commitment, consider asking each lender these seven questions:
When are you available? Youíll have questions, and he or she should be available to answer them.
Which loan is best for me? A reliable lender will evaluate your situation to find the best option for you. Ask for an explanation of the pros and cons of various loan types, such as fixed-rate loans, adjustable-rate loans, and interest-only loans.
What are all the costs? The costs will include closing costs and settlement costs including, but not limited to, fees paid to the lender and third-party vendor fees. Such costs may include the appraisal, title charges, points to reduce your interest rate (discount points), and prepaid items such as the interest due until your first payment and the initial escrow balance for taxes and insurance.
What are the interest rate and the annual percentage rate? The interest rate is the cost of borrowing money expressed as an annual percentage rate. The interest rate does not reflect costs/fees or any other charges you may have to pay for the loan. An Annual Percentage Rate (APR) is a broader measure of cost to you of borrowing money. The APR reflects not only the interest rate but also other costs/fees including points, broker fees, and certain other charges that you have to pay to get the loan, including certain of your closing costs. For that reason, your APR is usually higher than your interest rate.
How much is the prepayment penalty? A prepayment penalty is a charge the lender imposes in the event you pay off your mortgage early. Whether your mortgage loan has a prepayment penalty and the amount depends on what type of mortgage you have and the specific terms of your mortgage loan. Some loans have pre-payment penalties during the first years of the loan. These fees may impose substantial costs on homeowners with adjustable rate mortgage loans who want to refinance before their rates increase, and some fixed mortgages have prepayment penalties as well. Many states have laws that limit the amount or duration of these penalties. Whether your loan carries a prepayment penalty must be disclosed in your loan documents.
What is the turnaround time? Ask if the underwriters, who review loans and issue conditions before approving or rejecting them, are in-house and if there are any obstacles that could delay closing. Ask what the average time period to process a loan is.
How much are my monthly payments? Ask if the amount includes escrow for property taxes, homeownerís insurance, homeownerís association dues, and monthly mortgage insurance (if any). This should help you determine if you can afford the loan.
Remember that when looking for a lender, you should also check out the company and make sure the rates are competitive with those of other companies. Always get everything in writing, and donít be afraid to ask questions about anything you donít understand.
You can trust your


Reliance First Capital


mortgage analyst because theyíve been put through rigorous testing and background checks by the Federal Government, State Governments and by our organization. Also, every one of our mortgage analysts are registered with the National Mortgage Licensing System (NMLS).

In addition, any information collected by our mortgage analysts are entered into and kept in our secure password-protected proprietary loan origination system, so you can be sure your information is safe.

Finally, you can verify our company by visiting:

HUD: click here

Company Web Site:
Licenses or Testimonials