Create the Perfect Backyard Oasis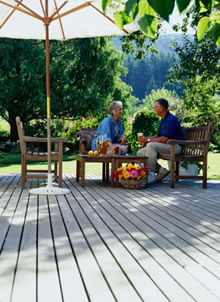 Summer is in full swing, and there is no better time to be outside. Make your backyard as comfortable as your living room. It's easy to create a space that everyone will want to hang out in and enjoy.

Before you start on any project, it is important to really examine your space and decide what your budget will be. Once you have those parameters, you can start the fun part! Just like your indoor living spaces, you want your outdoor space to have a floor, ceiling, lighting, furniture, and accessories.
Flooring — There are unlimited options here, from grass to wood to stone and everything in between. Whatever you choose, keep in mind the amount of upkeep (mowing, sweeping, restaining, and so on) and how that fits into your budget and time. Also, keep in mind who will be using the space (kids, adults, both?) and what activities are going to happen there (how durable should it be?).
Ceiling — Shade is key, and again you have several options. Make sure your final choice is durable and will do the job. If you have trees, you may want to simply enjoy their natural shade. Or you may want a simple gazebo-style tent or retractable awning. This is one area in which you'll be glad you didn't skimp — and so will your guests.
Lighting — Natural or artificial? If you are wired for artificial light, go for an option that doesn't look artificial. Soft lighting is relaxing and inviting. Think candles, tiki torches, and strings of holiday lights. You might even consider a fire pit.
Furniture — Ask yourself, "What is the main purpose of my outdoor room?" Will you be entertaining, dining, lounging? Then add the furnishings. Remember, you want durable and weather resistant items, but you also want them to be cozy and comfortable.
Accessories — Just like inside your home, you want to add those little accents that make the room personal and a reflection of your style. Water features, floral arrangements, statues and sculptures, and even your grill can add that little extra flair.
Once you have made a plan, it is important to keep a few things in mind. Consider whether you have access to a back door and electricity; know where you'll store items during storms and through the winter; and know that you'll be able to do the little maintenance tasks that will keep your space comfortable and inviting.
Now, kick back and enjoy your new living area!
You can trust your


Reliance First Capital


mortgage analyst because they've been put through rigorous testing and background checks by the Federal Government, State Governments and by our organization. Also, every one of our mortgage analysts are registered with the National Mortgage Licensing System (NMLS).

In addition, any information collected by our mortgage analysts are entered into and kept in our secure password-protected proprietary loan origination system, so you can be sure your information is safe.

Finally, you can verify our company by visiting:

HUD: click here

Company Web Site:
Licenses or Testimonials