The Simplest Way to Build Equity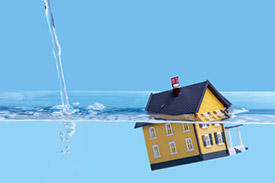 You've probably heard some people use the phrase "under water" to refer to their mortgages. This means that they owe more on their home loan than the home's fair market value. In other words, if they decided to sell the home, they couldn't sell the house for a enough money to pay off their loan and would actually owe the bank more than the house is worth.

Equity is the difference between your home's current fair market value and the principal you owe on the home loan. As your home's value increases and your principal decreases, the amount of equity grows.

The more equity you have, the more value your investment in your home has. For example, if you owe $250,000 on your home, but you could sell your home for $350,000, then the equity in your home is $100,000. Thus, increasing your equity is a good goal! Your equity can increase in several ways.

Market appreciation
When the real estate market goes up, your home's value and your equity also go up. However, the strength of the economy and the housing market are largely out of your control.

Place this in the "luck" category for home buyers. Think about the early 2000s when homes purchased for $200,000 were selling for $300,000 within months. It was good luck if you owned a home then. It was bad luck, though, if you purchased a home at the high point and got hit by the market crash in 2008. Fortunately today, most markets have stabilized and are hopefully looking up again.

Improvements and renovations
Not all factors are out of your control. One way to ensure higher equity is to make improvements to your home.

Add landscaping, replace the carpet, renovate the kitchen, remodel the bathrooms, and add a deck. When you increase your home's value, you can reap the rewards of your investment with greater equity.

But you have to be smart about your upgrades: When you make improvements, you should be realistic about how much value you'll actually get for your investment. Typically, improvements usually do not increase the value of your home dollar for dollar. A high-end, high-cost kitchen renovation for example may cost you $20,000, but only add $10,000 to the fair market value of your home. So you should also factor in the personal enjoyment you may gain from such upgrades when deciding on whether to make the expenditure.

Less principal
Time is not the only factor that may increase equity on your home; lowering the principal on the loan also may help build equity. Equity, remember, is essentially how much money you would walk away with if you sold your home today. The less money you owe, the more money you walk away with (provided property values remain constant or increase).

At the beginning of your loan most of the monthly payment goes toward interest.. However, with even one extra payment a year, the money you save on the overall real cost of your loan can add up significantly. Not only will your equity increase faster, but you may be able to pay off the loan early saving yourself interest — depending on the interest rate, term, and amount of the loan.

The way to respond to the economic forces beyond your control is to invest responsibly in real estate, only take on mortgage payments you can afford, and hold onto your home until the real estate market improves. But when you can, taking control of your equity can yield significant benefits.
You can trust your


Reliance First Capital


mortgage analyst because they've been put through rigorous testing and background checks by the Federal Government, State Governments and by our organization. Also, every one of our mortgage analysts are registered with the National Mortgage Licensing System (NMLS).

In addition, any information collected by our mortgage analysts are entered into and kept in our secure password-protected proprietary loan origination system, so you can be sure your information is safe.

Finally, you can verify our company by visiting:

HUD: click here

Company Web Site:
Licenses or Testimonials