Tips for Understanding and Maintaining Your Credit Score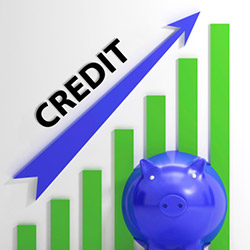 The better your credit score, the better chance you have at qualifying for a mortgage and getting the lowest interest rate possible. Thus you should continually check your credit report and address any issues immediately.
Credit reports and credit scores
A credit report is a record of your financial history, including credit card balances, auto loans, liens, and bankruptcies. Any information added to your credit report generally remains there for seven years. The details of the report determine your credit rating, most commonly scored numerically from 300 at the low end to 850 at the top end.
Typically, lenders will review your scores from the "big three" credit agencies (Experian, Equifax, and Trans Union) and will use the middle number for a final evaluation. The two biggest factors in your credit score are your payment history, which accounts for 35% of the score, and the amounts you owe, accounting for 30%.
There are several ways you can improve your credit score:
Pay your bills on time and build a history of on-time payments.
Reduce credit card debt and pay off any active debt first. Be aware, however, that if an account is in collection, it may be too late to improve your credit score by paying it off.
Keep your debt utilization low so that your credit card balances are low compared with your total available credit. Try to pay down credit cards to no more than 30% of the credit limit. Realize that closing credit card accounts can reduce your available credit, which can hurt your credit score.
Don't keep applying for new credit and apply for store charge cards only when necessary. Applications for new credit can affect your credit score.
Pay doctor and utility bills when they're due.
Keep "aged" credit cards open and use them periodically.
Have any errors on your report fixed immediately.
Reliance First Capital's free Credit Coach™ program has helped numerous homeowners improve their credit scores and qualify for mortgages and lower interest rates. If you have a lower credit score or questions about your credit report, call your Mortgage Analyst about the Credit Coach program to find out how it may assist you.
You can order free copies of each of your three credit reports every 12 months from annualcreditreport.com and correct any errors you find.
You can trust your


Reliance First Capital


mortgage analyst because they've been put through rigorous testing and background checks by the Federal Government, State Governments and by our organization. Also, every one of our mortgage analysts are registered with the National Mortgage Licensing System (NMLS).

In addition, any information collected by our mortgage analysts are entered into and kept in our secure password-protected proprietary loan origination system, so you can be sure your information is safe.

Finally, you can verify our company by visiting:

HUD: click here

Company Web Site:
Licenses or Testimonials