Outfit Your Home for Extreme Weather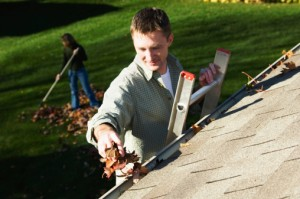 No matter where you live, extreme weather and natural disasters pose some degree of risk to the safety of your home. Recent extreme weather events — Hurricane Sandy in 2012, as well as many damaging tornadoes, destructive wildfires, and floods — give homeowners reason to consider making modifications that will protect their homes.

Forecasters predict that natural disasters are likely to become more commonplace in the U.S. As a homeowner, you shouldn't wait to become a victim. Instead, plan ahead to disaster-proof your home for hurricanes and floods if you live near the coast, fires if you live in mountain states, or tornadoes if you live on the plains.

To help you bolster your home against natural disasters, consider the following additions and modifications, which can both protect and add value to your residence and property.

To prepare for a flood (which affects all states, but particularly homes in low-lying areas and coastal regions) take these steps:
Clear gutters and downspouts of debris and make sure they're leak free, so that nothing will block heavily flowing water during a storm.
Install a pumping and drainage system, such as a sump pump, under the stairs or in basement utility spaces to prevent basement flooding.
Elevate the fuse box and any heating, cooling, and ventilation equipment to add a few feet of additional clearance.
To ready your property for a fire:
Make sure roofing materials are fire resistant; for example, asphalt shingles, clay tiles, metal sheets and shingles, and concrete and slate shingles. Avoid wood and shake-shingle roofs.
Create a defensible space around the property to mitigate wildfire risks.
Remove dead or dying plants, prune gardens, and clean plant matter from gutters.
Install a sturdy stone wall to shield the house from heat and deflect flames from your property.
Realize that most decks are highly combustible, because their shape traps hot gasses and, if made of wood, they often ignite before the fire reaches the house.
To fortify your house against a hurricane or extreme winds:
Replace old exterior doors with new hollow steel doors that have deadbolt locks and secured hinges.
Add storm-resistant bracing to garage doors, which are a weak spot for hurricane winds that can enter the house and blow down walls or tear off roofs.
Install a standby generator, such as a natural gas generator, that's connected to an existing gas line outside the house and comes on automatically during a utility power outage.
Add storm shutters or a track that can be put on the shutters.
Opt for impact-resistant windows to protect against high winds and flying debris.
Secure the roof and foundation with bracing or anchor bolts.
Remove any patio furniture and other loose items that could get blown around.
To ready your home for a tornado:
Install "tornado-proof" windows, and make sure to close and lock the windows and move furniture away from them.
Build a safe room in your house, such as in the basement, garage, or other ground-floor room. Reinforce the room with concrete, steel, or a combination of steel and wood.
To prepare your home for an earthquake:
Repair cracks in the ceilings or foundation and any leaks, because anything faulty will break further and faster during a quake.
Check the roof and repair any loose shingles.
Buffer an older home by using half-inch anchor bolts and earthquake brackets to secure the house to its foundation.
It's never too soon to prepare your home to withstand extreme weather or other natural disasters. By assessing your home's disaster readiness, you can choose which improvements are most likely to both fortify your property and boost its long-term value.
You can trust your


Reliance First Capital


mortgage analyst because they've been put through rigorous testing and background checks by the Federal Government, State Governments and by our organization. Also, every one of our mortgage analysts are registered with the National Mortgage Licensing System (NMLS).

In addition, any information collected by our mortgage analysts are entered into and kept in our secure password-protected proprietary loan origination system, so you can be sure your information is safe.

Finally, you can verify our company by visiting:

HUD: click here

Company Web Site:
Licenses or Testimonials