Get the Best Lawn on the Block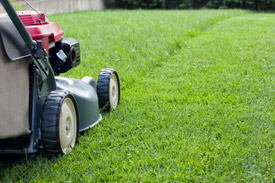 The backyard is home to so many simple pleasures: climbing trees, playing catch, barbecues, and relaxing in your hammock. For all these activities, it's great to be able to enjoy the look, feel, and smell of a lush lawn.

However, few of us want to spend all of our outdoor time maintaining the greenery. Here are a few handy time-saving tips for making your turf tops:
Reduce turf — When it comes to grass, less is more. Backyard lawns are a traditional part of the American landscape. However, creating borders of local, low-water plants adds dimension and beauty, and they use far less water than grass. Add native plants to more of your property to significantly reduce the amount of lawn you have to water.
Choose drought-resistant turf — Kentucky Bluegrass is a traditional favorite for lawns, but consider other, less thirsty, more drought-resistant grass seed that is equally lush and aesthetically pleasing.
Reduce your watering schedule — Water as infrequently as Mother Nature will allow. Watering the lawn should supplement rainfall depending on your climate. A good soak once a week between 4-8 a.m. may be ideal. If you have an automatic sprinkler system, conserve water by limiting the times you set the system to water.
Mow less — Good news! Longer grass keeps the ground cool and moist, requiring less water. Cut grass when it's three inches long, and then cut it down to just two inches.
Fertilize — Fertilize grass every eight weeks. If you live in an arid or semi-arid climate, be sure to winter-water and fertilize once a month during particularly dry times.
Be local — Check with your local Department of Agriculture (USDA) Cooperative Extension office to get information about soil quality and historic rain data for your area. The office can also be a great source of information about what native plants grow well in your region.
A healthy lawn will choke out unsightly crabgrass and add value to your home, too! So take these few steps, and then take that nap in your hammock.
You can trust your


Reliance First Capital


mortgage analyst because they've been put through rigorous testing and background checks by the Federal Government, State Governments and by our organization. Also, every one of our mortgage analysts are registered with the National Mortgage Licensing System (NMLS).

In addition, any information collected by our mortgage analysts are entered into and kept in our secure password-protected proprietary loan origination system, so you can be sure your information is safe.

Finally, you can verify our company by visiting:

HUD: click here

Company Web Site:
Licenses or Testimonials