Hot Water Means Happy Homeowners: Quick Maintenance Tips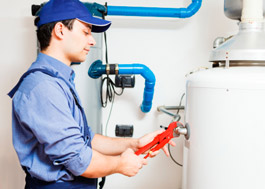 A hot shower, warm sudsy water for dishes, and freshly washed clothes and linens are modern comforts we tend to take for granted.

But why do we take them for granted? Because of one tireless appliance: the water heater. This is one of the largest investments in your home, yet it's often forgotten because it keeps working, year after year. Only when it breaks is it easy to remember the luxury of a hot shower!

Semi-annual water heater maintenance plan
A few simple steps every six months will ensure a long life for this hard-working appliance.
Set your heat at 120° — A heat setting of 120° is hot enough to take care of business, whether you're soaking in a hot bath or sanitizing dish towels in the washing machine. At this optimal setting you reduce the risk of accidental burns, especially for children. This temperature also reduces energy consumption and costs, and it prevents dangerous overheating of the appliance.
T&P relief valve check — Near the top of the water heater is a temperature and pressure relief valve with a lever. You want to pull the lever up twice yearly to make sure it's working. Some air or water should come out when the lever is pulled. If nothing happens, the valve needs replacing.
Perform a mini flush — Sediment at the bottom of the water heater tank can cause rust and corrosion. It's important to flush it out to improve efficiency and ensure a long life for the appliance. Every six months, perform a mini flush. Place a bucket under the spigot and turn the valve counter-clockwise to release a few gallons of water.
The annual full flush — A full flush is recommended annually. Turn off the electricity and water supply to the water heater, hook a water hose to the spigot, turn the valve counter-clockwise and allow all of the water to drain, hanging the hose out a nearby window. Close the valve and turn the water back on to fill the tank. Do not turn the electricity back on until the tank is entirely full.
If you are unsure about any step in appliance maintenance, be sure to consult a plumbing professional.
Show a little love to your water heater every six months and it will keep providing you with its simple luxuries. As a bonus, proper water heater care will reduce your energy bills by increasing efficiency of this useful appliance — a win-win for your bathing comfort and your pocketbook.
You can trust your


Reliance First Capital


mortgage analyst because they've been put through rigorous testing and background checks by the Federal Government, State Governments and by our organization. Also, every one of our mortgage analysts are registered with the National Mortgage Licensing System (NMLS).

In addition, any information collected by our mortgage analysts are entered into and kept in our secure password-protected proprietary loan origination system, so you can be sure your information is safe.

Finally, you can verify our company by visiting:

HUD: click here

Company Web Site:
Licenses or Testimonials