Your Home Maintenance Checklist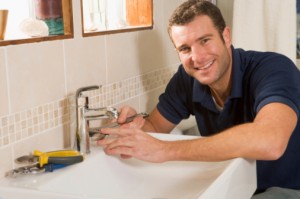 Just as you regularly change the oil in your car to keep the engine running efficiently, regular home maintenance is key to keeping your property in top shape. Preventative maintenance can help you avoid costly home repairs and maintain the value of your home.

It's a good idea to develop an inspection schedule to keep every part of your home well-maintained, safe, and working properly. This way, you get the full life expectancy out of every appliance and component of your home and reduce the likelihood of household items breaking or falling apart at inconvenient times.

Completing these routine tasks on a monthly, seasonal, and annual schedule will help you stay ahead. Keep a checklist of what you inspect with dates of when items are replaced, installed, or repaired.

To get started, here are several simple home maintenance tasks that can and prevent expensive breakdowns:
Monthly

— Test your garage door opener to make sure it reverses when it hits an obstruction or the sensor beam is interrupted. Clean out your garbage disposal, flushing it out with hot water and baking soda. Remove any debris from sink and tub stoppers and drain holes. Check filters and replace them as needed — for example, furnace filters should be replaced quarterly or as recommended by the furnace manufacturer.

Seasonally

— Check safety equipment, such as fire extinguishers and smoke and carbon monoxide detectors. Clean debris from gutters and downspouts; check for proper drainage; and inspect and repair any weak areas. Clean the debris from the condenser of a central air conditioner. Check for leaky faucets in the kitchen and bathrooms and replace washers as necessary.

Annually

— Vacuum the refrigerator coils, as well as the clothes dryer's exhaust duct. Clean the water heater, draining the water until it's free of sediment, and test the temperature pressure relief valve. Inspect window and door caulking and weather stripping. Clean the roof and siding and repair if needed. Inspect and clean the chimney. Replace the batteries in smoke detectors at least once a year.
Homeowners can accomplish many of these items, but if you notice a problem that needs professional attention, don't put off calling the repairman. Maintenance is less expensive than having to buy a new appliance or make a large repair. Replacing a refrigerator costs several hundred dollars, but cleaning your coils and checking the seals are free tasks that can prolong the life of your fridge.

So develop a schedule and stick to it — you'll be glad you did!
You can trust your


Reliance First Capital


mortgage analyst because they've been put through rigorous testing and background checks by the Federal Government, State Governments and by our organization. Also, every one of our mortgage analysts are registered with the National Mortgage Licensing System (NMLS).

In addition, any information collected by our mortgage analysts are entered into and kept in our secure password-protected proprietary loan origination system, so you can be sure your information is safe.

Finally, you can verify our company by visiting:

HUD: click here

Company Web Site:
Licenses or Testimonials