What Are Mortgage Points?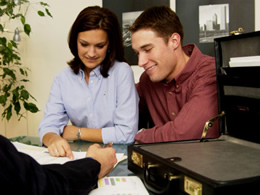 What are mortgage discount points and how do they affect your loan and your finances? If you're looking for a home loan, these are important questions and the answers will make a difference in the way you approach your loan planning.

A mortgage point is a fee based one percent of the total amount of your loan. So for a $100,000 loan, one point would be $1,000.

There are two kinds of points: origination points and discount points. Origination points are typically charged for the origination of the loan. Discount points give borrowers some flexibility in determining the interest rate they will pay for the loan; they are essentially pre-paid interest. Borrowers can typically pay between one and four discount points, and each point purchased can help lower the interest rate.

On a purchase mortgage (vs. a refinance), discount points may be paid by either the buyer or the seller or split between the parties.

Deciding to pay for discount points may offer several benefits:
Mortgage discount points may be tax deductible*
A lower interest rate will lower your monthly payment
How does this information help you decide whether or not to buy points? You will want to take into account how long you plan on staying in your home as this will help determine the amount of savings you will realize. To get a reliable evaluation of the benefit you may get from purchasing discount points, be sure to talk to a trusted mortgage professional.
*You should consult with a tax adviser for further information regarding the deductibility of discount points.
You can trust your


Reliance First Capital


mortgage analyst because they've been put through rigorous testing and background checks by the Federal Government, State Governments and by our organization. Also, every one of our mortgage analysts are registered with the National Mortgage Licensing System (NMLS).

In addition, any information collected by our mortgage analysts are entered into and kept in our secure password-protected proprietary loan origination system, so you can be sure your information is safe.

Finally, you can verify our company by visiting:

HUD: click here

Company Web Site:
Licenses or Testimonials