Office Clutter Is Bad for Business and Your Brain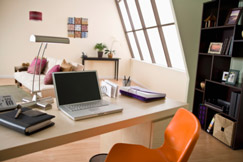 We all know that appearance can make a big difference on the impressions of others. If you're looking to sell your home or refinance, clutter significantly impacts your success. But clutter isn't just a hindrance to others, it's also a culprit for your own undue stress.

Your living space is a reflection of what is going on inside your mind. Likewise, your home office space reflects what is going on in your business and household affairs. If your office is cluttered with inconsequential junk, chances are your business may be a little disorganized as well.

Where to start
The art of clearing is the practice of discarding what no longer works for you to make room for what matters.

Clearing your office will allow you to concentrate and make clearer decisions in your business and home finances. Try these tips to de-clutter, de-stress, and refocus.
Love it, use it, need it, or toss it: These are the criteria for keeping something or throwing it away. If you do not use it, need it, or love it, then get rid of it.
Going up: Keep floor space clear by installing wall shelves. This will allow you to store bins, books, and office supplies out of the way.
Bin there, done that: Store items in bins according to their use. Not seeing everything at once allows you to focus on what you're doing now.
Tie it up: Keep cords for electronics in envelopes labeled with each cord's purpose.
Give to get: You no longer use that 35mm camera or flip phone — it's time to donate unused items to a thrift store or worthy cause. They get something useful and you reduce your clutter.
Digitize it: Don't print every receipt or email or keep every magazine. Create organized files on your computer and scan or download important documents. Use a cloud service to keep it backed up.
Five-minute mail smackdown: When you bring in the mail, focus on dealing with each item immediately. If you can handle the required action in under five minutes, take care of it right away. Otherwise, file it, trash it, or tuck it in your to-do folder. The same rule applies to emails.
Removing clutter will help you reduce physical distractions and increase mental adeptness. After all, if you don't have to waste time digging for your to-do list and every item that's on it, then you're going to become a lot more efficient. So get organized — your brain and your business will thank you!
You can trust your


Reliance First Capital


mortgage analyst because they've been put through rigorous testing and background checks by the Federal Government, State Governments and by our organization. Also, every one of our mortgage analysts are registered with the National Mortgage Licensing System (NMLS).

In addition, any information collected by our mortgage analysts are entered into and kept in our secure password-protected proprietary loan origination system, so you can be sure your information is safe.

Finally, you can verify our company by visiting:

HUD: click here

Company Web Site:
Licenses or Testimonials