The True Value of Home Renovations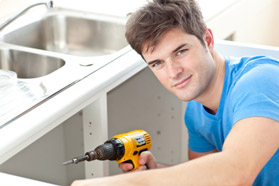 If you've been debating making a few upgrades to your home, consider the best ways to get an optimal return on your investment, even if you're not planning to sell right away.

When upgrading, it's important to carefully consider how much you should invest in a project and set realistic expectations about how much of that expense you would be able to recoup. Not every project will add substantial value, even if you spend a substantial amount of money on it.

First, remember that your personal taste won't necessarily influence your home's market value. Consider upgrades that potential buyers would want, and don't over-improve. It's possible to spend so much on your renovations that you price your home over the typical values in your neighborhood, making your home harder to sell.

When you upgrade, always consider cost-effective options first. Simple projects such as painting, resurfacing existing cabinets, and updating hardware and fixtures can make your home more attractive to potential buyers without emptying your wallet.

But when full renovations are done right, you can often increase your home's value enough to recoup a portion of the expense. Remodeling magazine's 2013 Cost vs. Value report shows the average amount you might expect to recoup from midrange remodeling projects. Here are a few examples:
Kitchens — Homeowners can expect returns as high as 68.9% on a major remodel and 75.4% on a minor project. Easy changes like replacing hardware or outdated cabinet doors, upgrading to stainless steel appliances, and installing engineered-stone or granite countertops will improve the aesthetics of the space. To make the space appear larger, knock down a full or half wall to connect the kitchen to a den or living room.
Bathrooms — Bathroom upgrades can yield a return as high as 65.2%. Update the sink and fixtures to appeal to modern tastes. Install a vanity that recesses into the wall to save space. Add a window to let in natural light. Replace stained grout. And reglaze the tub, rather than getting a new one.
Adding to living space — If you finish a basement, you might enjoy a return of 70.3% on the cost. There are several options for a basement, such as adding a bathroom, guest room, media room, or a special-use room such as a wine cellar. Convert an attic to a bedroom, and you could see a 72.9% return. When adding multiple rooms, be sure to account for hallway space, new walls, and electrical and plumbing needs.
Exterior improvements — Many exterior upgrades have value for you and for potential buyers, so you can expect to get back some of your cost on these projects.

Deck: 67.5-77.3%
New roof: 62.9%
Siding: 72.9%

Make sure the deck has an interesting shape and consider enhancements such as a built-in fire pit or benches. Use higher-grade wood materials for the flooring and railings to make it easier to maintain. For a roof, you don't need to buy specialty materials like slate or tile; you can opt for composite asphalt shingles, which come in a wide range of styles and colors.
Even choosing one of these upgrades will help improve the value of your home, as well as freshen up the appearance of your living space. Upgrades don't have to be undertaken all at once but can be done one at a time, spreading out the cost and the workload.

Remember to choose upgrades that you want. After all, your home should always remain functional and meet your needs.
You can trust your


Reliance First Capital


mortgage analyst because they've been put through rigorous testing and background checks by the Federal Government, State Governments and by our organization. Also, every one of our mortgage analysts are registered with the National Mortgage Licensing System (NMLS).

In addition, any information collected by our mortgage analysts are entered into and kept in our secure password-protected proprietary loan origination system, so you can be sure your information is safe.

Finally, you can verify our company by visiting:

HUD: click here

Company Web Site:
Licenses or Testimonials