How to Stay Snug and Safe at Home This Fall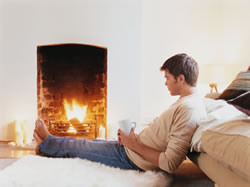 The leaves are changing, and the air is getting cooler. With the onset of fall, the kids are back in school and it's time to start looking forward to the holidays.

As the temperatures drop and you prepare to spend more time indoors, it's also time to focus on home maintenance. Here is a checklist to help you begin (Hint: Start outside and work your way indoors).

Landscaping
Ensure outdoor safety and prepare your yard for winter weather:
Clear walkways and check that railings are secure.
Mow and reseed the lawn.
Trim plants, hedges, and trees.
Plant late summer/fall seeds and bulbs.
Drain the hose and store it.
Remove planters and pots.
Store patio furniture or prepare it for the elements in your area.
Drain and winterize the pool.
Blow out the sprinkler system.

The garage
Cleaning your indoor storage space will make it easier to access necessary tools during the winter months:
Organize your shed or garage.
Place winter tools (shovels, snowblowers) up front so they are easy to get to.
Have your snow blower serviced.
Stock up on snow melt or salt.

House and roof
Take time to walk around the perimeter of your house to look for any potential issues:
Look for anything (siding, shingles, etc.) that is broken or loose.
Replace caulking and weather stripping around windows and doors.
Climb onto the roof (or hire a professional) and make any necessary repairs. Common roof fixes include


loose or missing shingles;
fraying around roof edges; and
gaps around vent pipes.


Clean debris from gutters and ensure they are securely attached.
If you have a fireplace, clean the chimney and stack your firewood.

Inside
Basic maintenance indoors can significantly improve your home's efficiency during the winter:
Have the furnace serviced and tested for carbon monoxide leaks.
Clean vents and replace your HVAC filter.
Inspect the pressure and temperature on your water heater.
Clean the dryer vent.
If you have a basement, look for cracks that could lead to flooding.
Insulate any exposed pipes.
Take a weekend this fall to go through your list and make sure your home is safe and ready for winter. Then, sit back and relax. It's time to enjoy the cooler months in your cozy home with the ones you love.
You can trust your


Reliance First Capital


mortgage analyst because they've been put through rigorous testing and background checks by the Federal Government, State Governments and by our organization. Also, every one of our mortgage analysts are registered with the National Mortgage Licensing System (NMLS).

In addition, any information collected by our mortgage analysts are entered into and kept in our secure password-protected proprietary loan origination system, so you can be sure your information is safe.

Finally, you can verify our company by visiting:

HUD: click here

Company Web Site:
Licenses or Testimonials