The Benefits of Built-In Storage — Now and at "For Sale" Time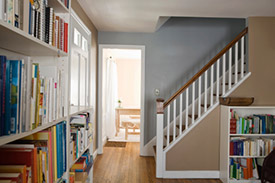 As your household stuff accumulates, the amount of available space to put it shrinks. To solve the space problem, you can add well-planned, built-in storage. Well-designed storage improvements can eliminate clutter, streamline a home's appearance — and they can also add to your home's resale value.

Built-in storage and fitted furniture can be made to measure to fit any space or function. The pieces can include customized drawers, cabinetry, and shelving to store items, manage clutter, and conceal items out of use. Built-in storage can be placed in unused or awkwardly shaped spaces not suited to normal furniture or cabinetry, such as under stairwells, below sloped ceilings, and in tight corners.

Fitted furniture
Free-standing furniture projects into a room and can be bulky, leaving areas of wasted space. This is particularly a problem in a small home that has few closets or storage areas, so that what space is available is crucial.

Using fitted furniture is an upgrade that can be a huge benefit both while you're living in the home and when it is time to sell. Not only does having fitted furniture let you keep your scarf collection and juicer and still live in a tidy, organized household — if you're short on square footage or floor space, it will make a smaller home feel bigger. Plus, buyers love seeing great storage, so fitted furniture can add a lot of appeal.

Storage ideas
If you're looking for ways to add storage to your home, check out these examples of rooms and potential upgrades for fitted furniture and built-ins:
Garage — Cabinets and work benches give you a place to store your tools in an easily accessible space and prevent further clutter that results from hunting down the needed items. A tool bench can be used for storage and double as a workspace.
Mud room — A stopping area just inside the door is a great place to stow umbrellas and raincoats, which can warp hardwood floors, stain rugs, and cause wear and tear. Add extra storage with a coat rack, bench, hooks, or cubbies.
Bathroom — A bath towel keeper gives you a place to hang used towels and keep fresh ones stacked on top.
Bedroom and closets — Options to gain space include a storage bed with drawers or cubbies underneath, a chest of drawers recessed into the wall, and a desk with storage cubbies.
Kitchen — Permanent cabinet organization tools like sliders, pull-outs, and pot-and-pan holders give you a place to store utensils and other kitchenware that's easily accessible and doesn't cause clutter on the countertops.
Living areas — Cut-outs can be converted into shelves, desks, entertainment centers, or other focal points. A wall-hung TV cabinet with bi-fold doors can hide a flat-screen television, or a bookcase with a built-in window seat can use the space around a window while adding storage space. Or add a built-in bookcase to gain that space.
Adding space alleviates that crowded feeling when clutter becomes overwhelming and ends up getting in the way or being covered in dust. By using smart storage solutions, you can transform a messy and uninviting living space into a tidy, organized, and efficient home.
You can trust your


Reliance First Capital


mortgage analyst because they've been put through rigorous testing and background checks by the Federal Government, State Governments and by our organization. Also, every one of our mortgage analysts are registered with the National Mortgage Licensing System (NMLS).

In addition, any information collected by our mortgage analysts are entered into and kept in our secure password-protected proprietary loan origination system, so you can be sure your information is safe.

Finally, you can verify our company by visiting:

HUD: click here

Company Web Site:
Licenses or Testimonials