Streamline the Process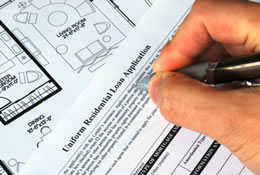 If you are currently making mortgage payments on the home you own, odds are good that you've heard a lot about refinancing. For homeowners who currently have FHA loans, a simplified program is available that may help them lower their monthly payments and make housing more affordable: FHA Streamline loans.

Simpler process is also now less expensive
FHA Streamline loans are designed for borrowers who already have an FHA loan. What sets them apart from conventional refinance loans?
reduced paperwork
simple requirements for eligibility
no appraisal required if your payment will decrease by at least 5 percent
The government also reduced the fees associated with FHA mortgages, making the process even more affordable and easier for hundreds of thousands of homeowners. Since 2008, more than 750,000 borrowers have refinanced their homes through FHA's Streamline program.
How has FHA lowered loan costs?
Although the simplicity of the FHA Streamline program makes it attractive, the costs of mortgage insurance for FHA borrowers have been increasing until recently, making it difficult for some homeowners to realize the full benefit of lower interest rates.
Before the fee changes, which went into effect June 1, upfront and ongoing insurance premium costs were quite high. For example, a homeowner refinancing a 30-year, $200,000 loan with a 95 percent loan-to-value ratio would pay a whopping $3,500 at closing — and another $208.33 per month on top of principal and interest. That cost might erase any payment-reduction benefit for the borrower.
However, as of June 1, the same qualified homeowner will pay only $20 at closing and $91.67 per month in premiums.
Another cost reduction with FHA Streamline loans is the elimination of the need for an appraisal. In a market that is seeing more upside-down mortgages, the requirement to have your home appraised to refinance can cost you in more ways than one. Not requiring a new appraisal can allow homeowners to stay afloat, even if they owe more than their homes are worth at the moment.
Who qualifies?
These homeowners may qualify for the FHA Streamline program:
Their current mortgage is already insured by the FHA.
They are current (not in default) on the mortgage.
The current mortgage was endorsed by the FHA before June 2009.
FHA Streamline loans are very popular, but it may be tough to find a lender who will process the loan. Reliance First Capital professionals will not only help you determine whether you qualify, but will steer you through the entire refinance process. We'll make sure you're on course for the best solution for your situation.
You can trust your


Reliance First Capital


mortgage analyst because they've been put through rigorous testing and background checks by the Federal Government, State Governments and by our organization. Also, every one of our mortgage analysts are registered with the National Mortgage Licensing System (NMLS).

In addition, any information collected by our mortgage analysts are entered into and kept in our secure password-protected proprietary loan origination system, so you can be sure your information is safe.

Finally, you can verify our company by visiting:

HUD: click here

Company Web Site:
Licenses or Testimonials