Untangle the True Cost of "No-Cost Mortgages"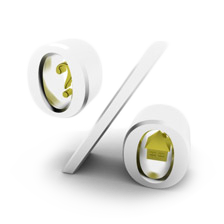 You've seen the ads claiming you can qualify for a "no-cost refinance" or "no-cost mortgage." Is this legit?

Yes, lenders do offer legitimate refinancing and mortgages that require no up-front payment from you. This does not really mean that the loans are "free." As with any loan, the key is for you to determine whether or not it is right for you — and this means reading the fine print.

Typical no-cost scenarios
When you are looking at a "no-cost" loan option, you'll likely see one of two common models:
Rolled-in costs — Some lenders will roll the costs associated with the loan (processing fees, title fees, etc.) into the principal of the loan. This will help you secure a loan if you don't have much 'cash' on hand, but it will increase the overall cost of the loan because you will be paying interest on these costs for the life of the loan.
Lender-paid costs — Some lenders will front the costs of the loan to buyers. However, they recoup the costs by charging a slightly higher interest rate than the market rate (a .5% difference is typical). Again, if you're having difficulty coming up with 'cash', this might be a good choice for you, especially if you are not planning to own the property for long. However, it will increase your monthly payment, sometimes by a significant amount.
Although the idea of a no-cost loan is alluring, you will want to carefully consider the true long-term cost of the loan. You might decide that it would be better to pay the mortgage costs yourself. Doing so will give you the advantage of the lowest possible interest rates and keep your principal lower. If you're planning to own the property for a long period of time, these advantages carry considerable weight.
To decide which option you should choose, it's best to figure out your break-even point. This simple calculation gives you a clear picture of how much time it will take to recoup your costs, and it will help you determine if a no-cost loan is a good long-term fit financially.
Break-even point calculation:

Understanding the true costs involved
While "no-cost mortgage" and "no-cost refinance" loans are legitimate, as you can see, they do come with a real cost. It's important to choose a lender that provides detailed information about their loan programs and is honest about the true cost of the loan. If a lender is glossing over what the higher interest rate will truly cost you month-to-month and over the life of the loan, or they are pretending that they won't make a profit on the loan, then it's time to walk away and find another lender.
You can trust your


Reliance First Capital


mortgage analyst because they've been put through rigorous testing and background checks by the Federal Government, State Governments and by our organization. Also, every one of our mortgage analysts are registered with the National Mortgage Licensing System (NMLS).

In addition, any information collected by our mortgage analysts are entered into and kept in our secure password-protected proprietary loan origination system, so you can be sure your information is safe.

Finally, you can verify our company by visiting:

HUD: click here

Company Web Site:
Licenses or Testimonials